Everyone! Families, individuals, whanau, friends, visitors from New Zealand or overseas, communities, business and schools. All you need to do is make your donation… we'll do the rest. Plant kauri every year – for each of your children, to remember a special person, to remember a special holiday or anniversary. You can support Kauri 2000 wherever you live.
Are You a Visitor?
What better way to remember your visit to the Coromandel Peninsula? Even though you're far away, you'll know there'll always be a piece of your heart in the kauri forests of the Coromandel. And what better incentive to return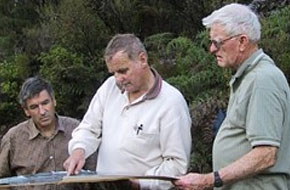 Since the trust was formed in 1999,  Kauri 2000 has planted over 55,000 kauri seedlings on 36 sites around the Coromandel peninsula. Some of our more notable locations include the following. Chelmsford on the Kopu-Hikui Road, including our Puketui Road, Tairua River...