The Kauri 2000 Organisation
Kauri 2000 evolved out of a project to mark the start of the new millennium with a goal to plant 2000 kauri. To date the Trust has planted over 54,000 kauri on the Coromandel Peninsula and continues to plant kauri throughout the Coromandel. 2019 marked the Trust's 20th anniversary.
The Kauri 2000 Trust is a non-profit charitable trust, registered in New Zealand under the Charities Act 2005.
Patron:

Founder:

Trust Chair:

Trustees:

Adviser:

Dame Catherine Tizard

Cliff Heraud

Alison Henry

Jill Kaeppeli

Maurice Kirby

David Fitzgerald

Vicki Blok

Secretary/Coordinator:
Rose Morcom
Costs and funding
Diversification is a time-honoured survival strategy for nature, businesses and volunteer organisations alike, and right from the start Kauri 2000 has avoided becoming tied to any one major sponsor. Like other similar conservation groups we tread the well-worn paths to the various funding organisations and we are immensely grateful to the Department of Conservation, the Lotto Millennium and Environment & Heritage Funds, WWF, Environment Waikato, the Thames-Coromandel District Council, Pub Charities, Trust Waikato,  and others for their generous support over the years.
Public donations remain an important source of funding. Individuals and families can support Kauri 2000 at any level, from single or multiple $20 tree donations, by becoming a Friend of Kauri 2000 for an annual membership of $25. We have also benefited from the commitment of corporate sponsors such as the Bank of New Zealand, SupplyIT Ltd, Coastal Campers, Good Energy Ltd.and NZI Insurance. However our standout benefactors have to be Charlie and Gayle Pancerzewski, an American couple who have given their hearts to New Zealand and to the kauri. They return to Northland every year to press their olives, and catch up on Kauri 2000 achievements. Without their generosity, enthusiasm and counsel we would only have made a fraction of the progress we have enjoyed so far. Chasing money is time consuming. The Trust has a part-time co-ordinator who is paid an honorarium, but has recently established a sub-committee of three trustees to step up its fund raising efforts.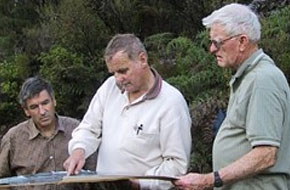 Since the trust was formed in 1999,  Kauri 2000 has planted over 55,000 kauri seedlings on 36 sites around the Coromandel peninsula. Some of our more notable locations include the following. Chelmsford on the Kopu-Hikui Road, including our Puketui Road, Tairua River...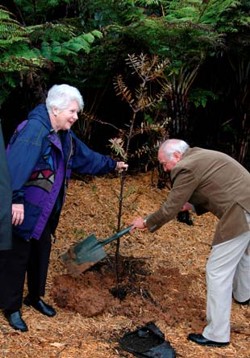 Dame Catherine Tizard and founder Cliff Heraud plant the 20,000th seedling for the project in 2006.
Photograph by Vivienne McLean.
"I am enthusiastic about the aims of the Kauri 2000 Trust and honored to be its Patron. What a simple, sensible idea, to plant kauri – lots of them! What a great way to end two centuries of neglect and destruction of our natural heritage by starting to make amends by re-planting."
Dame Catherine Tizard, Patron
The Kauri 2000 Trust