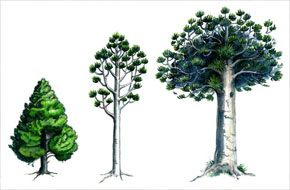 The Kauri, Agathis australis, is New Zealand's largest and most famous native tree, on account of its size and age. It is regarded worldwide as a truly noble tree. Ancestors of the kauri first appeared in the Jurassic Period 190-135 million years ago. Kauri – podocarp – hardwood forests are among the most ancient in the world.
Family: Araucariaceae (evergreen trees found only in the Southern Hemiphere) Genus: Agathis (20 species of very large trees found in the southwest Pacific) Species: australis (the only species in New Zealand).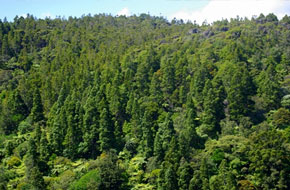 The kauri grows in the subtropical northern part of the North Island, with a natural range as far as latitude 38 degrees south, roughly on a line joining Tauranga and Kawhia. However kauri are quite hardy and will grow as far south as Stewart Island (47 degrees...