MBAS Students Helping Kauri 2000
Mercury Bay Area School students from years 7 and 8 spent time in the bush on Blackjack Hill, Kuaotunu, on 30 May and 1 June. Teachers, parents, carers and volunteers coordinated what seemed like a military operation and the Kauri 2000 trustees would like to thank everyone involved.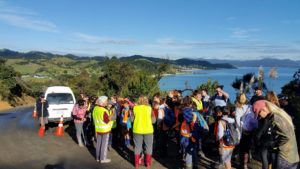 Kauri 2000 pays a warm tribute to our Patron, Dame Cath Tizard who was our friend and mentor for 20 years. Dame Cath and our Founder, Cliff Heraud shared friendship and a keen sense of humour leaving us with many memories of laughter and happy occasions planting kauri...
read more
Latest Kauri2000 Newsletter